August 29, 2023
The Texture and Tactile Trends in Business Class
Full-service airlines make the bulk of their profits from their business class cabin, whether that's called business class or something a little more opaque — remember Clipper and Ambassador Classes, and all the names since? At this year's Aircraft Interiors Expo, more business class seats broke cover than ever before, whether that was out on the stand or behind the closed doors of seatmakers' secret rooms.


There's incredible engineering going on to balance comfort, density and of course safety, but what struck me most this show was the amount of texture, tactility and soft surfaces that seatmakers are introducing to change the look — and especially the feel — of these seats.
Much of what I was seeing, both in public and behind closed doors, explores how to bring a real liveable tangibility to the seat, and particularly to the increasingly important shrouding and sidewalls.
Stelia's Rendez-Vous staggered seat is one of the best examples of this trend, emerging from last year's secret rooms to the main stand. Rendez-Vous feels as if you're wrapped in a luxurious European suit, with premium fabric extending from the seats to the sidewalls and beyond. The retro mid-century aesthetic and the way the seatback disappears into the sidewall — notably in the centre honeymoon pairs — are both big gamechangers.
Stelia's Rendez-Vous photo by Frank Socha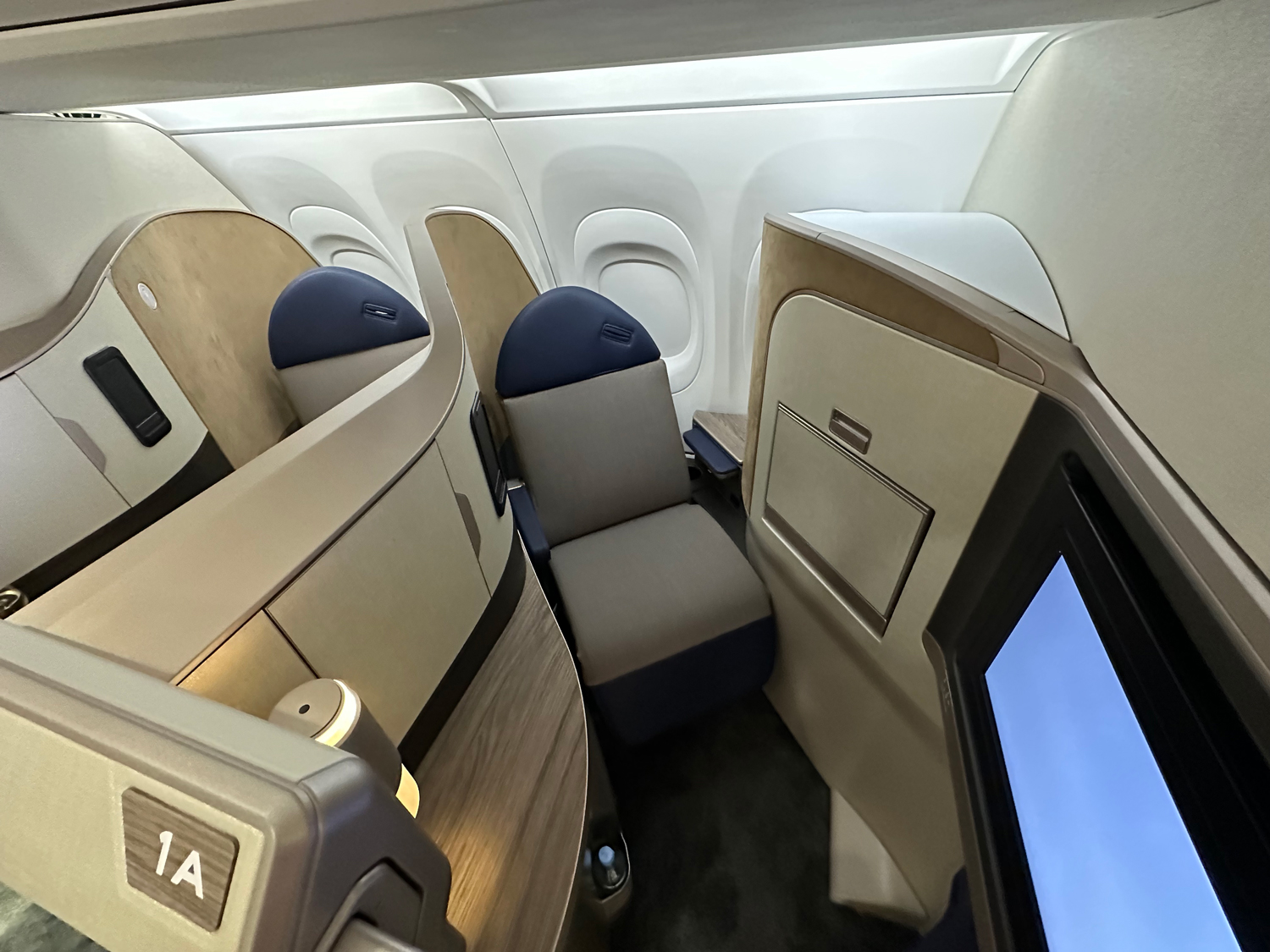 Collins Aerospace's new Aurora inward-facing herringbone for narrowbodies is a great example of this. One of the tradeoffs in this kind of seat has always been the sidewalls, which have previously mostly been a plain thermoplastic. Here, Collins has used a beautiful suede effect, which means that when the passenger brushes up against it the feel is warm and inviting rather than cool and plastic. Top marks.

Collins Aerospace photo by John Walton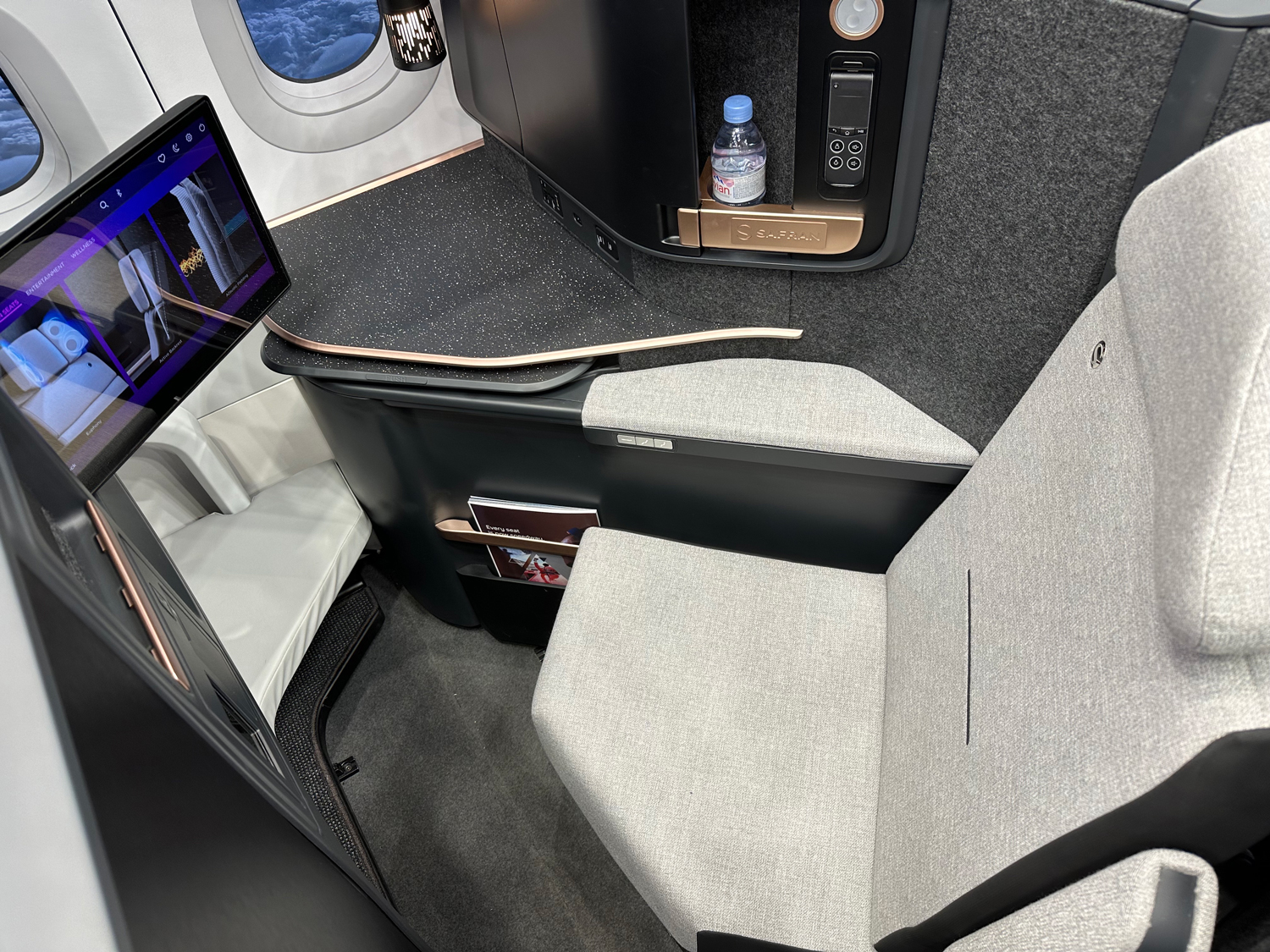 Safran's Vue, meanwhile, in the same market but an outward-facing herringbone, offers a different aesthetic, leaning towards a moody palette of greys with the seat fabric extending to the armrest, high-touch metallic elements in a warm almond-rose gold, and different fabric featuring on sidewalls and shrouding.


It's especially notable that, with the exception of the aircraft sidewalls, there's an absolute minimum of white, beige, light grey or greige thermoplastics visible in these (and most) of the seats we're talking about.
Safran Vu photo by John Walton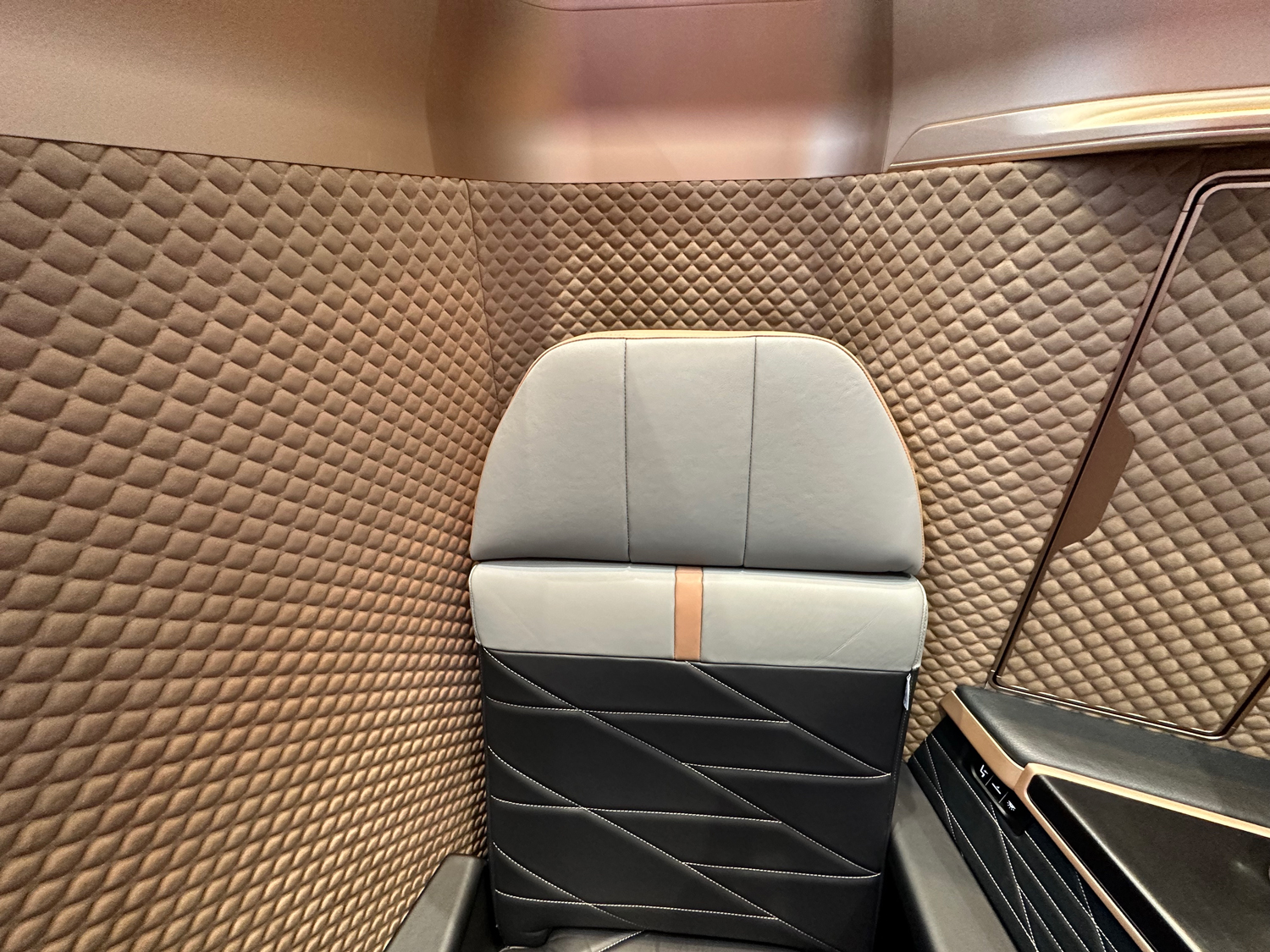 Starlux's A350 seats (Collins Aerospace, Elements) are a great example of premium cabin differentiation through luxury and texture. The standard business class seat is beautifully dark and metallic, playing with light and texture that's attractive even on the bright lights of a stand, and will be even more so inside the aircraft. But the front row first class suites are spectacular, with a quilted diamond surround in a luxurious fabric that feels incredibly luxurious, and swaps out the regular business class seat fabric for a buttery leather that feels like designer furniture.
Starlux A350 first class suites photo by John Walton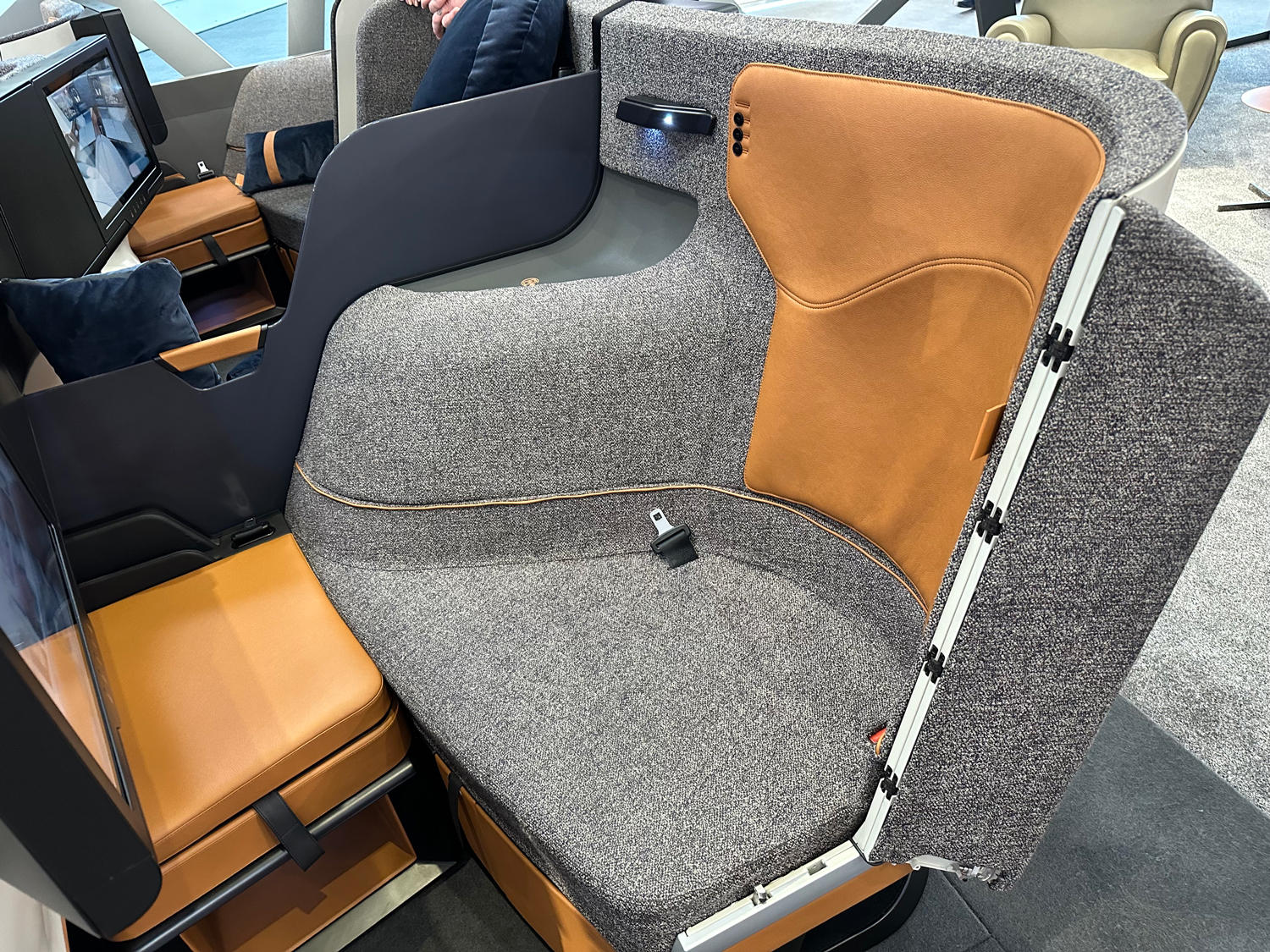 Beyond the staggered-or-herringbone question, Optimares' SoFab concept — a minimal-mechanism sofa-style seat — extends the fabric in really human curves around the surfaces, with wonderfully tactile leather and fun accents like the small set of jacket sleeve buttons near the light.
Optimares photo by John Walton
Recaro, meanwhile, demonstrated visual tactility with an internally lit shelf on its concept demonstrator seat that asks the question of how seats and surfaces can serve multiple purposes.

Recaro photo by John Walton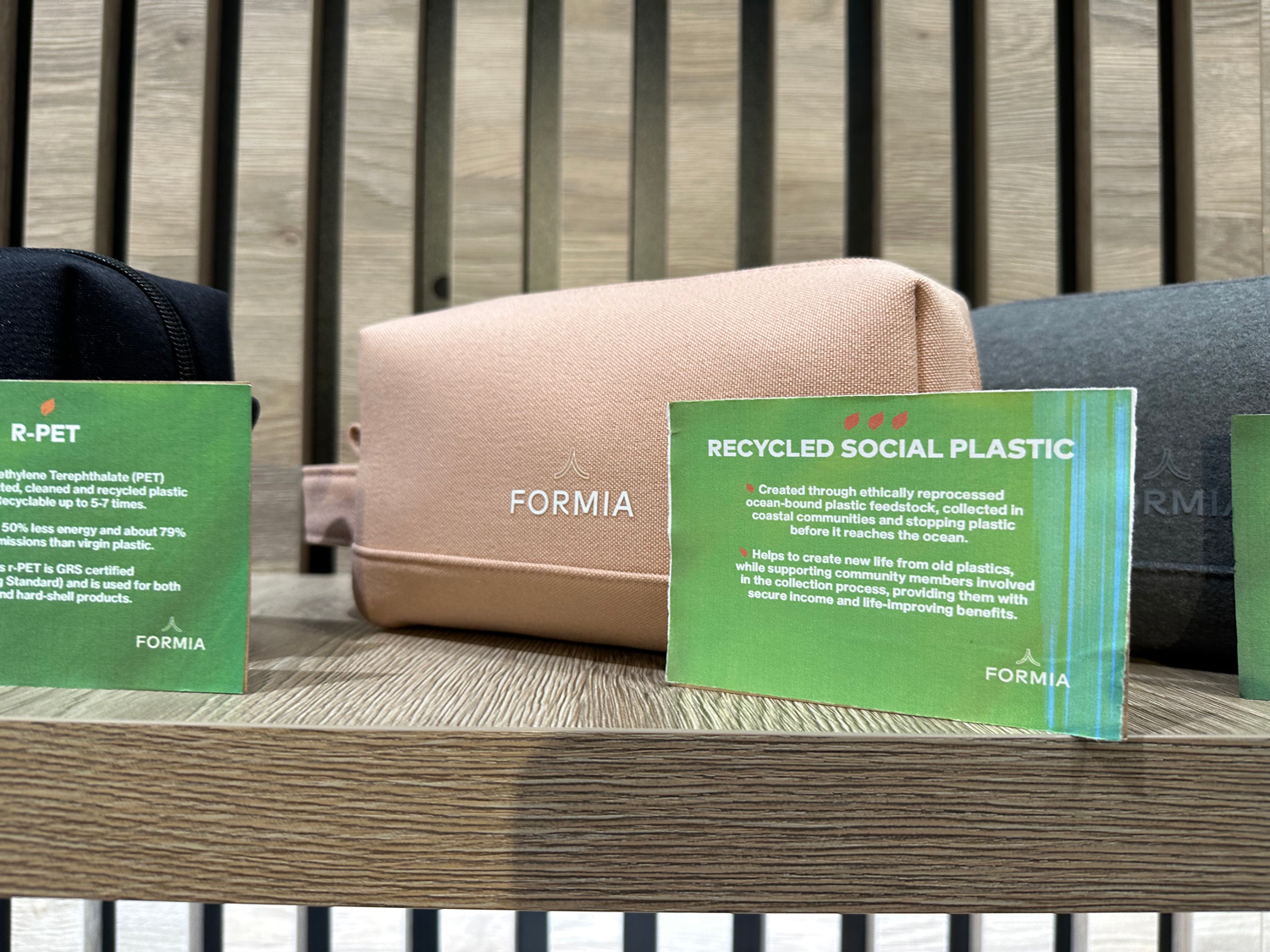 On the sustainability front, of course, there are some very real questions about how these surfaces and textures are integrated into the seat. There's certainly a temptation to simply apply them onto existing structures, but if this adds weight — and if the adhesives reduce the recyclability of each element — we must resist. One option here, for sure, is a recycled or environmentally conscious fabric material. There's great work being done throughout the industry, with amenity kit provider Formia's massive wall of ecofabrics a real head-catcher. What new partnership will be the next tactile, textured stand-out?

Formia photo by John Walton