November 14, 2022
CDN Showcases New Interior Concepts
Reporting by James McLachlan of Car Design News

Citroen Oli

Revealed at the Paris motor show in September, the Citroen Oli is a quirky little city car that aims to combine practicality with sustainability. No, really. These are not just buzz words – the aim is to use sustainable materials, boost energy efficiency of its electric powertrain, but not to the detriment of its utility. This is a family car that serves a purpose, and although it is just a concept, Citroen says the Oli is a statement of how design and versatility can work hand-in-hand.

Look past the oddly-shaped exterior and there is a mix of lightweight, environmentally-friendly materials that bring texture and function in spades. These are not only more easily recycled and reused than industry-standard materials, but they also help to keep weight low – important stuff for an electric car. The seats feature 80% fewer parts than conventional seats, Citroen says, and are easier to dismantle (meaning materials are more likely to be recycled than scrapped).

Rather than a dashboard with multiple digital displays, the Oli features what is described as a "beam" that spans the width of the console. This houses the steering column, a smartphone dock and clearly defined switches. Beneath this beam sits the "sofa", a storage shelf that is made from 3D-printed thermoplastic polyurethane to hold cups and cans securely in place. Look closely, and the steering wheel sports a joystick within thumb reach, just like on a games console. Perhaps most notable is the return to colour – gone is the sea of greige seen in most modern cars, replaced by a wash of rich orange across the seats, head lining, carpets, steering wheel and centre console.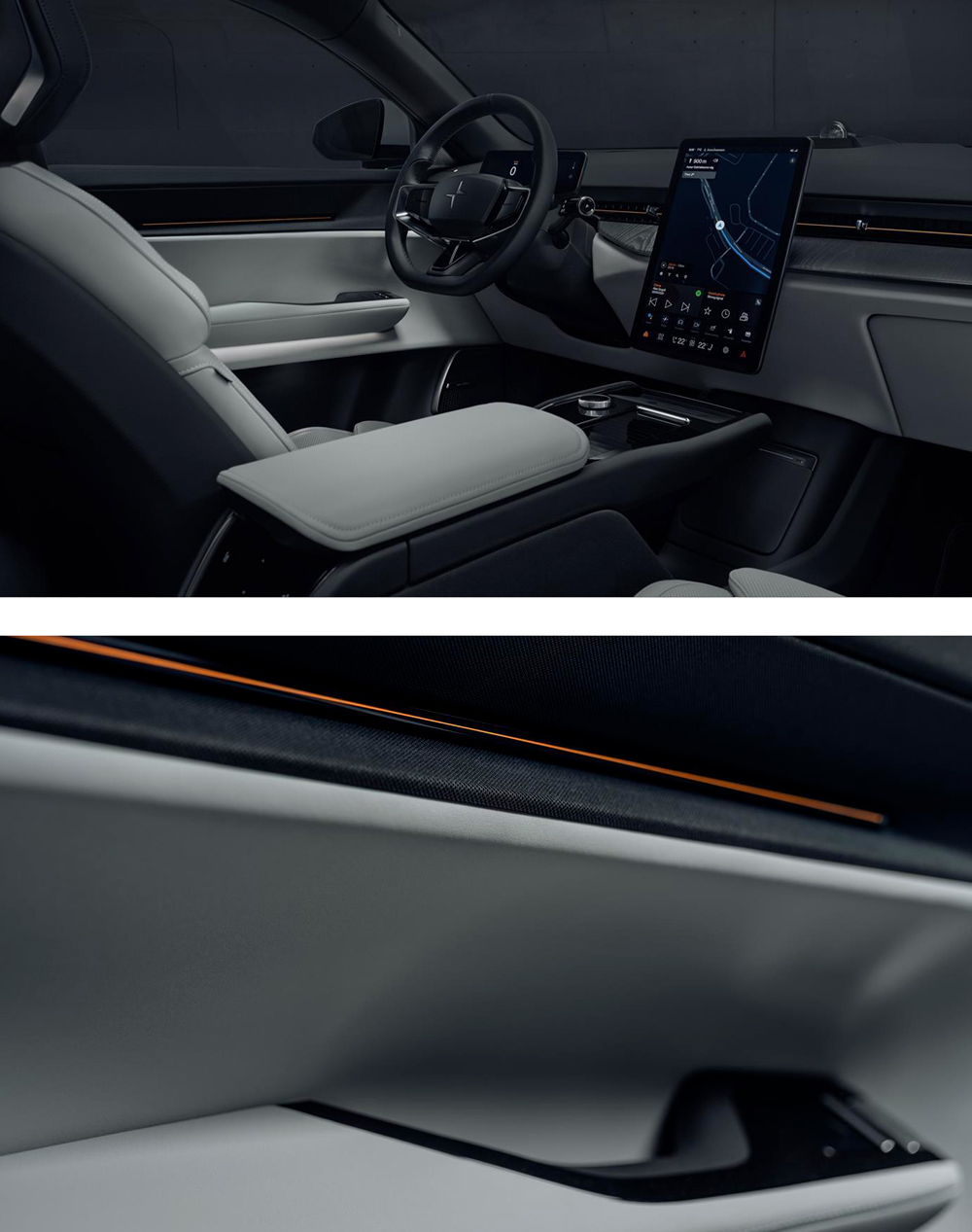 Polestar 3
Staying true to Scani design principles, the Polestar 3 is minimalistic not only in terms of functionality, but also colour and materials. As the brand's first luxury SUV there was a slightly different brief compared to the sportscars and coupes that came before. It was about creating a premium interior in a subtle way, holding back in places where others might be more in your face. Much of this came down to the colour and trim schemes on offer, which have been carefully crafted by the CMF team.
"We wanted to give the feeling that you're very blessed to sit in this car, but without shouting it," Polestar head of Colour and Materials, Maria Uggla, told CDN during an exclusive walkaround.
Every interior surface, even the lowers and B-sides, is dressed in soft, premium material.
"There wasn't any area we didn't consider," Uggla says.
Sticking with the theme of materials, and Polestar says it will offer vegan interior options but also animal-based materials that are welfare certified – such as leather that is sourced as a by-product of the food industry.
Like other Polestar models, the layout is very much on brand: a horizontal display that dominates the centre console, pops of yellow throughout the cabin – most obvious on the seatbelts but also on the air vents – and high-quality mix of metallic and gloss black finishes. Ambient lighting in places such as the door cards accent what is a restrained yet opulent cabin. Could this be anything other than Polestar?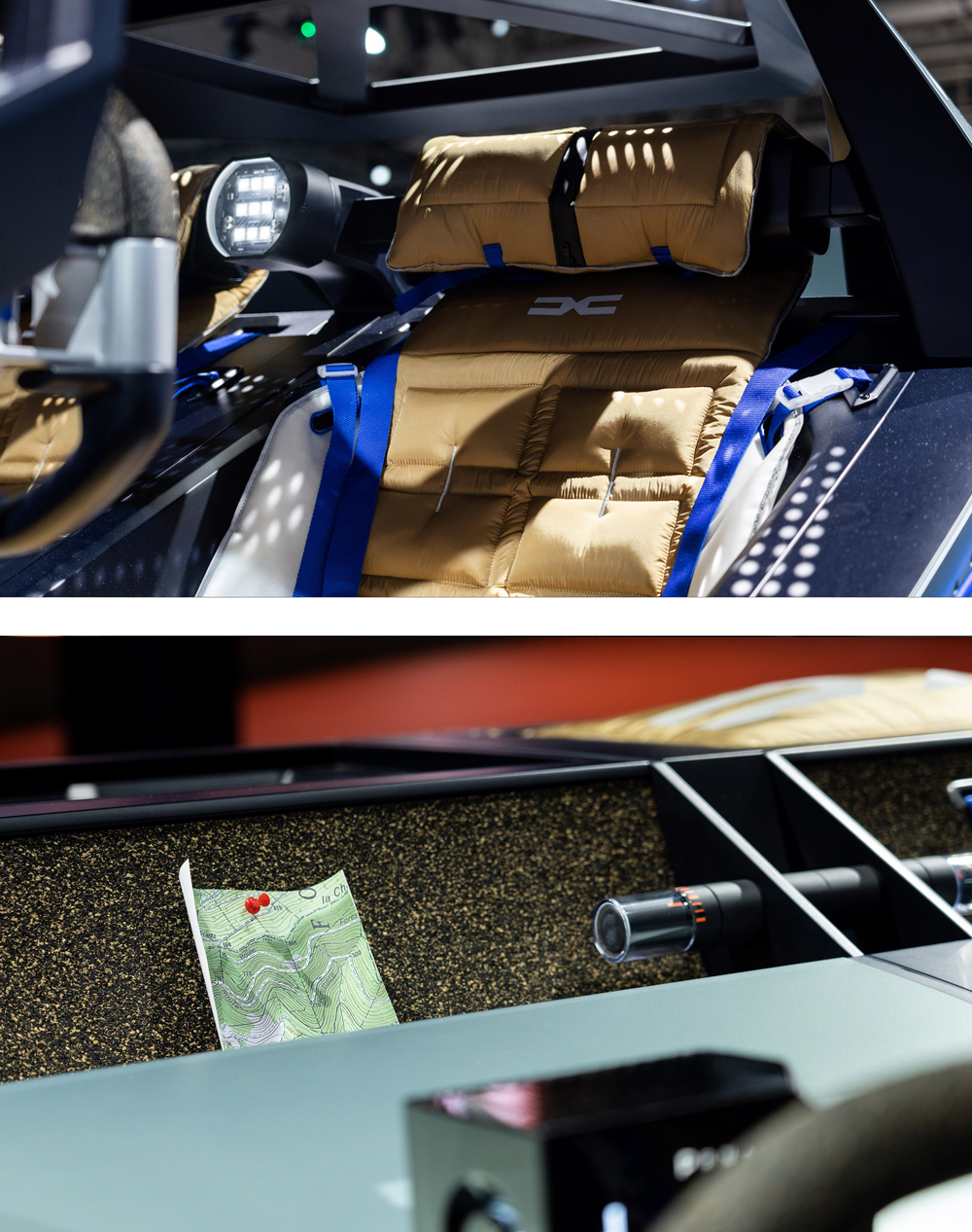 Dacia Manifesto
Dacia recently revealed the Manifesto, a frankly unexpected concept with no doors or windows that is inspired by adventure motorcycles. In stark contrast to the digital-first, hyper-futuristic concepts of recent years, the Manifesto feels more like a rally car or farm buggy: the interior is fully waterproof and can be easily hosed down; there are just two seats, each featuring padded covers that are in fact removable sleeping bags; and an industrial-looking centre console sports the gear selector, start-stop button and hazard light switch.

The dash doubles as a cork board, and brightly coloured textile straps and pull handles are dotted throughout the cabin, presumably to tie down items that might otherwise fall out. Even the switchgear is thick and chunky given that the car would probably be used even in harsh weather conditions.

"I actually told the designers to imagine that people would wear gloves – and not the fancy kind – when driving this car," says Romain Gauvin, chief designer, advanced design and concept cars at Dacia.

Rather than a digital display on the centre console, there is a corkboard to which maps or notes could be pinned instead. But there are elements of futurism, such as the backlit steering wheel and digital instrument cluster. There is hidden innovation on the materials front, too, with plastic surfaces containing primarily recycled material, dubbed Starkle, which is made from pre-used polypropylene and carries an attractive terrazzo pattern. The Manifesto concept is a world away from the typical concept car and its interior has rightly caught the eye of the design community.