April 14, 2023
New Tech and Interiors Take Over Fully Electric Vehicles
This selection of fully-electric sports cars and SUVs draw on inspiration from previous models but offers a host of new tech and cutting-edge interior designs.
Lancia Pu+Ra HPE
A streamlined and edgy design gives the new full- electric Lancia concept car a striking and modern silhouette, but there are several clear nods to nameplates of old. It channels elements from the legendary Stratos, namely the circular taillights, and there is also a place for less well-known models of the past with the rear window recalling the "sub-blind" detail of the 1970s Beta HPE. The nomenclature HPE is lifted from the Lancia Beta but now stands for High Performance Electric rather than High Performance Estate. On the inside, the Italian marque has teamed up with furniture brand Cassina to create what it describes as a typically "home feeling" experience. The front seats take inspiration from Vico Magistretti's Maralunga armchairs, which are clad in recycled wool, while the ocher door panels are made from material consisting of up to 50% waste from marble dust and recycled fabric.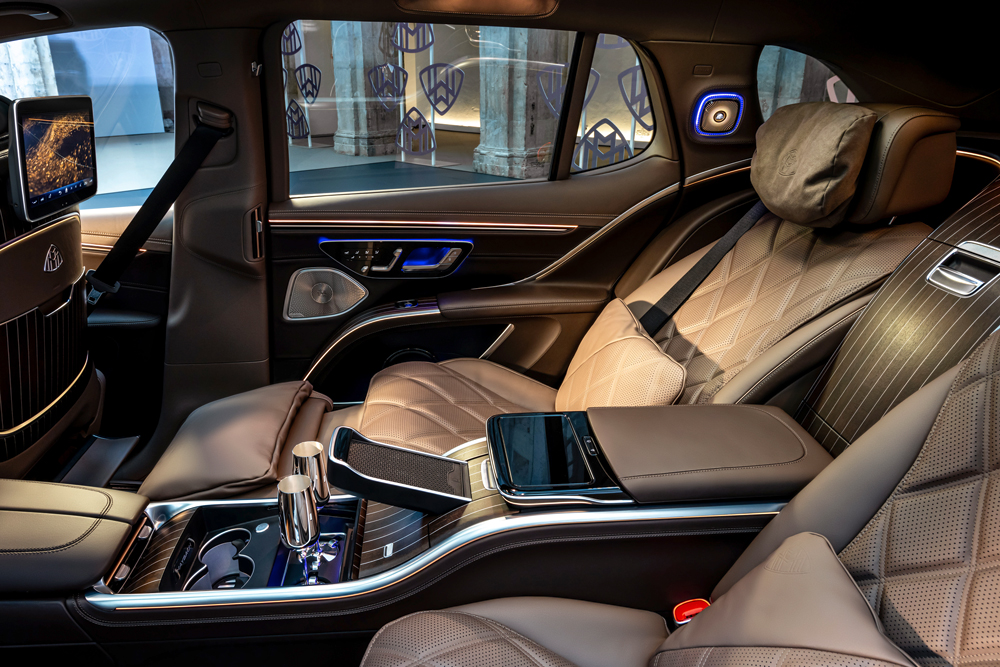 Mercedes-Maybach EQS 680 SUV
Officially unveiled at the Shanghai motor show, the Mercedes-Maybach EQS 680 SUV is the production version of the concept we saw in 2021 at the IAA in Munich. Based on Mercedes' EQS SUV, the new model loses some of its show-car wow factor but retains many of its signature design cues and extravagant colour and trim treatments. Mercedes' massive Hyperscreen comes standard, for which UX designers created Maybach-specific start-up animations on all three displays. The vehicle is also fitted with a stellar 15-speaker Burmeister sound system with Dolby Atmos capability. Rich open-pore wood is inlaid with Maybach's familiar "flowing lines" pattern, echoing the pin-striping of the front grille design. Rear seats are fitted with Maybach's signature pillowy headrests and a champagne cooler with silver flutes. Several surfaces are clad in vegetable-tanned leather, a first for any Mercedes production vehicle, and there are Maybach logos at every turn, with the surrounds for the round instruments done in rose gold.
MG Cyberster
MG is returning to its roadster roots with a full-electric, two-seater due in 2024. Up close, the production-car-representative Cyberster model looks every bit the classically well-proportioned sportscar, with a gently forward-sloping bonnet, cab-rearward silhouette, long wheelbase and a truncated Kamm-style tail. The Cyberster's interior – accessed by the dramatic and production-bound supercar-style scissor doors – is also strong and unusual in its design. The driver's zone is cockpit-like with a 'flying buttress' passenger grab handle leading from the IP diagonally down the side of the centre console to join a raised centre armrest and double cupholder section. In front of the driver, three sizeable landscape-oriented screens are arranged in a shallow half-hexagon layout around a yoke-shaped steering wheel. A full-rim steering wheel with a likely altered driver display will also be an option. The model also has an electrically-powered soft-top, and although a hardtop version has also been designed, it remains unconfirmed for production.