July 12, 2023
Retro Roadsters & an SUV That Blends City to Country Driving
Two roadster concept cars suggest that there is appetite for retro racers with modern twists, while Hyundai's latest SUV attempts to be a jack of all trades.


Triumph TR25 by Makkina

London-based design house Makkina is celebrating its 25th anniversary, and has marked it by unveiling the Triumph TR25 concept. The roadster concept draws on inspiration from the iconic TR2, particularly with the exterior sculpting, though there are a few modern flourishes. Suicide doors open up to a small off-set and driver-centric cockpit that includes just one seat, though designers say there is the option of a second jump seat. The large blue bucket seat is placed in front of a racing steering wheel, while a small digital display on the dash mimics the revolving counter design of a bygone era and provides simple information on only speed and energy. The central spine of the car, made from F1-grade materials, runs from top-to-toe in the cabin forming a strengthening pillar in the cockpit, helping the all-important structural rigidity. The blue suede material of the seat also clads the armrest and door panels.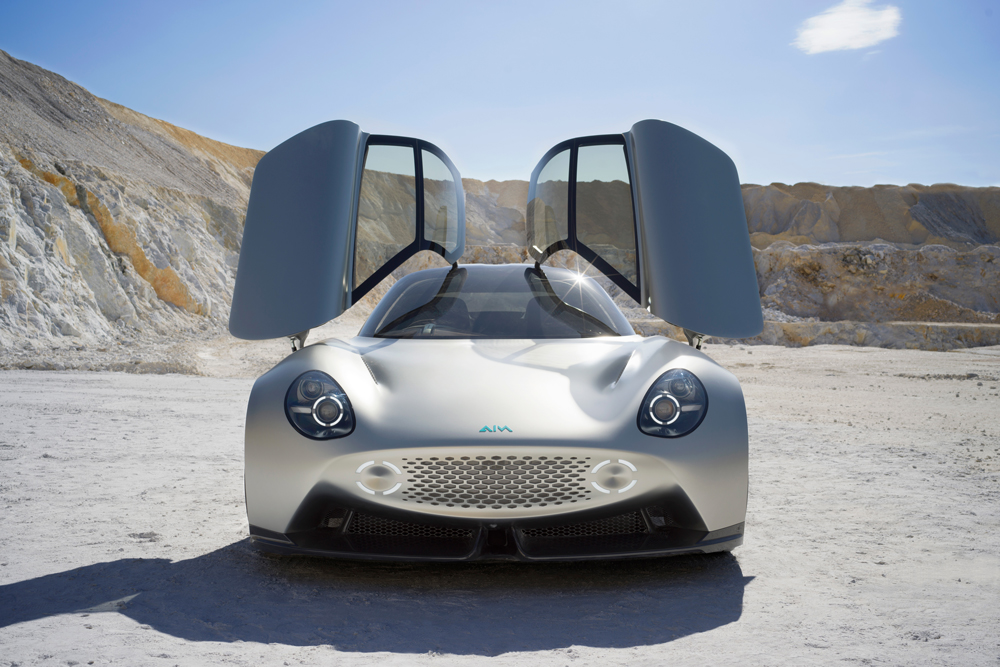 AIM EV Sport 01

On show at the Goodwood Festival of Speed, the EV Sport 01 is another roadster concept, this time from Japanese engineering firm AIM. It was penned by former Nissan design chief Shiro Nakamura, and again blends old styles with a modern freshness. Another set of suicide doors open up to a retro interior. Most of the surfaces on the inside are cladded in brown leather, with retro circular air vents popping out of the dash that are reminiscent of previous Nissan models. The IP is kept relatively smooth and clean until it meets the digital driver display, where it then proceeds to wind and snake around the curved screen. A racing three-spoke steering wheel is flanked by a couple of large rotary dials and switches, but there has evidently been a conscious effort to keep clutter to a minimum and ensure the focus is on the act of driving. Two bucket seats are covered in a soft black suede material, as is the steering wheel and the doors, while fine stitching provides a delicate finish.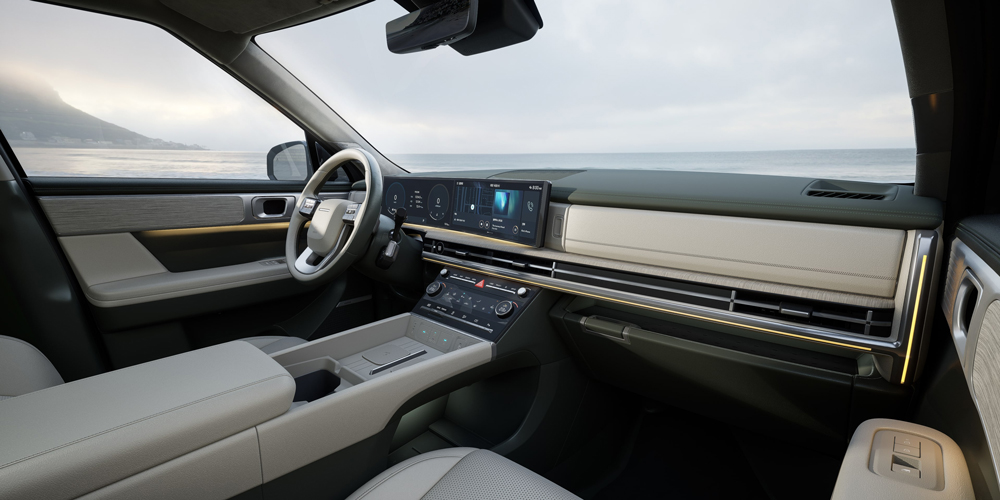 Hyundai Santa Fe

The 2024 Santa Fe, now in its fifth generation, incorporates a bold new design language and a new market placement, blurring the boundaries between city car and camping countryside-ready SUV. The blocky and chunky exterior is matched by a clean and precise interior, with ample space for families and groups. Horizontal lines dominate the IP and large furniture pieces add weight and mass to the structure. A big center console includes wireless charging for two devices, cup-holders, and a storage box under an armrest cover. There is even a small storage area under the charging station for extra practicality. Hyundai's curved panoramic screen provides most of the controls to the driver and front passenger, though some environmental and entertainment controls, with a few actual buttons and knobs, are located on the center console. A flexible layout design ensures the second and third rows of seats can be adjusted to amplify functionality and roominess.