March 22, 2022
Brownstone: Rooted in Nature & Retro Nostalgia
This month we celebrate Brownstone, a rich, earthy hue, and a member of our Eco Tech collection. Brown is a timeless shade, offering comfort in its familiarity and healing in its connection to nature. Known as the color of natural elements like wood, soil, sand, and stone, brown represents a grounding force in the world of design. It's warmth creates a cocoon of security, immersing any space in feelings of calm.
Brownstone is a shade that is dominating our spaces, making a resurgence on the runways of major fashion houses, and being included in commercial and domestic color palettes. This "brown renaissance" arrives amidst a global pandemic, which saw an unprecedented period of at-home isolation that inspired a widespread impulse to reconnect with nature, reflecting a cultural boomerang effect. Now, we wish to bring the outdoors, in.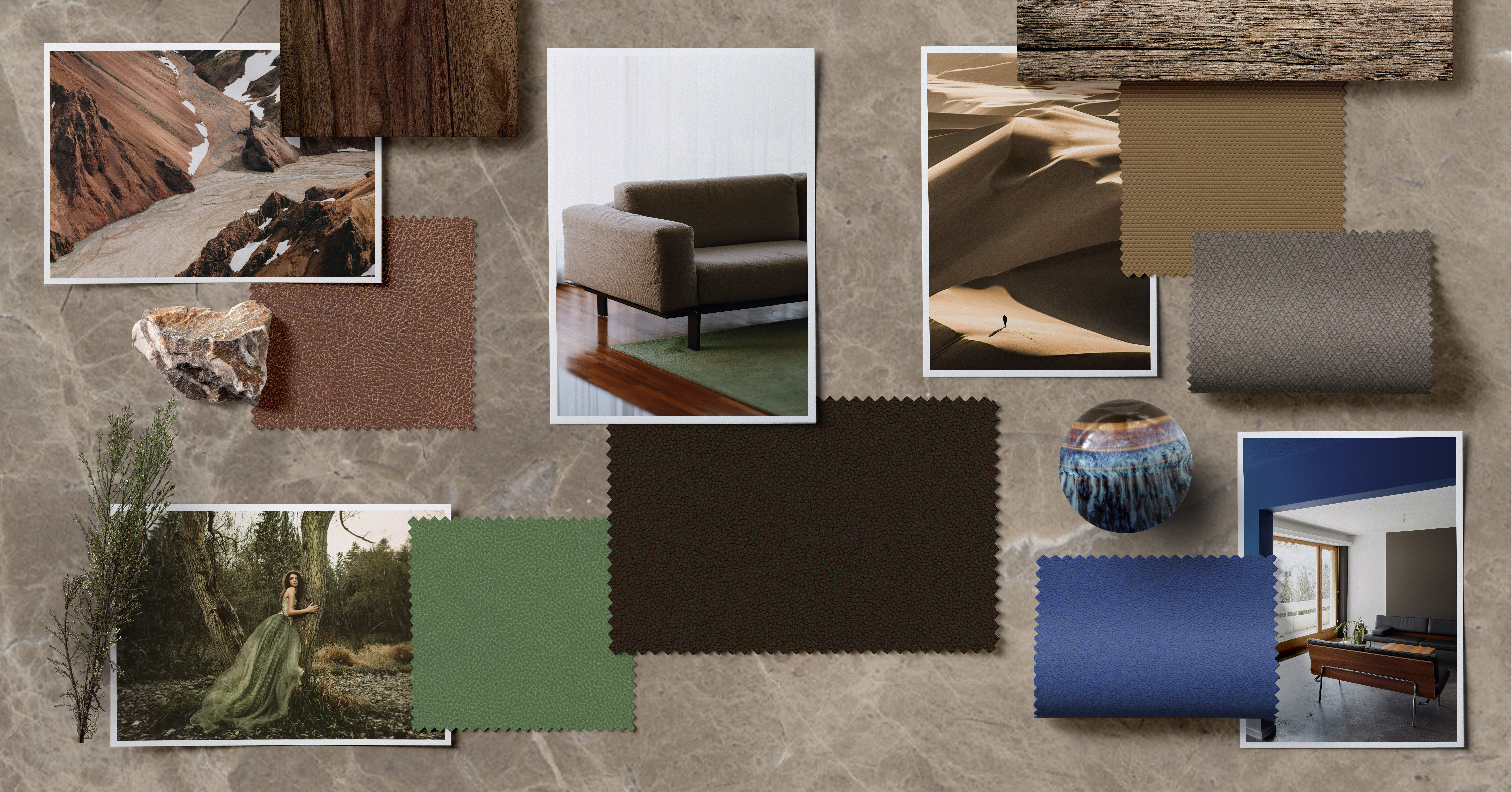 This climate is nostalgic, calling back the brown take-over of 1970s America. A rebound from the bright-colored, artificial look of the 1960s, this movement toward neutral tones complemented the down-to-earth mentality of that decade. One would be hard-pressed to find a home without brown shag carpets and wood wallpaneling lining every room, or a wardrobe missing brown corduroy pants and sweaters.


The grounding qualities of brown serve as a healing anchor, bringing peace to a turbulent mind. It evokes an almost tactile experience, where one can imagine the shade as a soothing salve.

In this color perspective, we pair Brownstone with colors that create haptic palettes, celebrating touch and well-being.


With other shades of brown, like the cocoa of Promessa Woodpecker (left) and taupe of Wired Kahlua (right), Brownstone's richness is accentuated. This monochromatic palette illustrates the depth of earth's layers—the dust, the rock, the soil. Studies have shown that working in gardens (getting our hands dirty in earth's soil), can boost serotonin levels, promoting feelings of relaxation and contentment.

When paired with sand tones—the pale cream of
Brisa Golden
(right) and warm caramel of
Geom Penny
(left)—Brownstone is majestic, conjuring the breathtaking sight of desert dunes. Playing in sand is terrific for developing motor skills, building hand-eye coordination, and strengthening muscles.

Coupling brown with the brilliance of
Cove Capital Blue
(left) exemplifies harmony. The colors complement one another perfectly, signifying the elemental consonance of earth and water. The ocean-blue lapis stone is said to represent wisdom; spiritual counselors recommend holding one in your pocket for guidance.