August 01, 2022
Melon: Enjoy This Invigorating, Summery Shade
This month's Color Perspective celebrates summer with a spotlight on
Melon
. A member of the Ultraleather Pro family, Melon is inspired by the color of cantaloupe and brings an invigorating refreshment to any palette. This shade is vibrant, evoking a youthful vitality characteristic of our hottest season. Conjuring the energy of the summer sun, Melon's warmth is magnetic, making it the perfect color to uplift a space.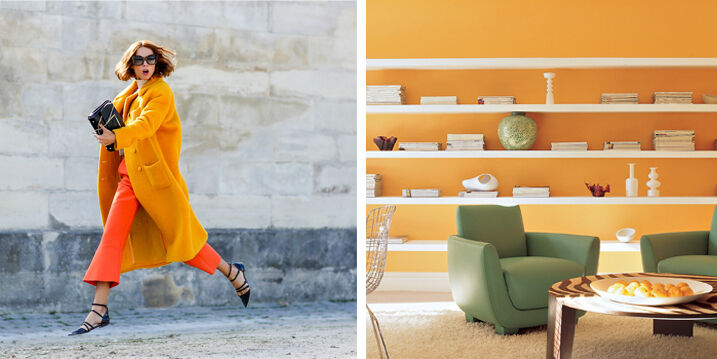 All shades of orange are surging in popularity this summer. Named a 2022 color to watch by both Vogue and Allure, orange is setting the fashion world ablaze. The joy of Melon-like shades, along with deeper rusts and bright neon's, can be found on both runways and red carpets. Orange is also trending in interior design; its playfulness awakens the imagination and fosters creativity. Because Melon has a softer undertone than traditional, brighter oranges, it is incredibly versatile and fits seamlessly into any space.

Melon is a shade that stimulates the senses. It summons the sweet, juicy flavor of a ripe cantaloupe on a summer day. In this Color Perspective, we have combined Melon with a few other shades equally vibrant in their tactility, creating a tasty adventure of color.
Pairing Melon with the subtle gray of
Coast Feather
and
Montage Silver Ash
creates an energetic palette, with the happy orange hues popping against the neutral background. This color palette evokes the delicate flavor of persimmon, which have a taste akin to sweet honey and earthy squash.

When combined with the softness of Ultraleather Pro Blush and Rosy Coral, Melon creates a romantic and simultaneously enticing environment. This unique flavor profile is comparable to that of pink grapefruit, with a taste that is sweet, yet tart and acidic at the same time.
Melon, with beige
Ultraleather Champagne
and yellow
Reef Pro Submarine
, promotes a warm and inviting atmosphere. The mellowness of Melon combined with the brightness of Submarine creates an energetic cheerfulness that is also intense; this ambience is then balanced out by the neutrality of Champagne. The delicate recipe of these three shades is reminiscent of a macaron. The success of these intricate pastries depends on finding the proper equilibrium between sugary and nutty flavors.

Combining Melon with green Reef Pro Algae and terracotta Montage Firebrick results in a contemporary take on mid-century design. This natural, harmonious palette conjures the flavor of apricot, velvety and earthy in its sweetness.