November 08, 2022
Designers Harvest Warmth with Autumnal Colors
Fall is in full swing, Thanksgiving is fast approaching, and autumn leaves are swirling through the air. To celebrate the magic of this time, this month's Edge blog focuses on tones of fall foliage: blazing orange, pale yellow, and rich brown. The combination of these shades creates a warm, sentimental palette, one that reminds us of quality-time spent with family and friends around a table. Inherently cozy and soothing, autumnal colors create breathtaking mosaics on the trees all around us, leaving lasting images that few of us forget. Here, we travel around the world to visit several new developments in the design world—these shades are making appearances not only in our backyards, but on the international stage.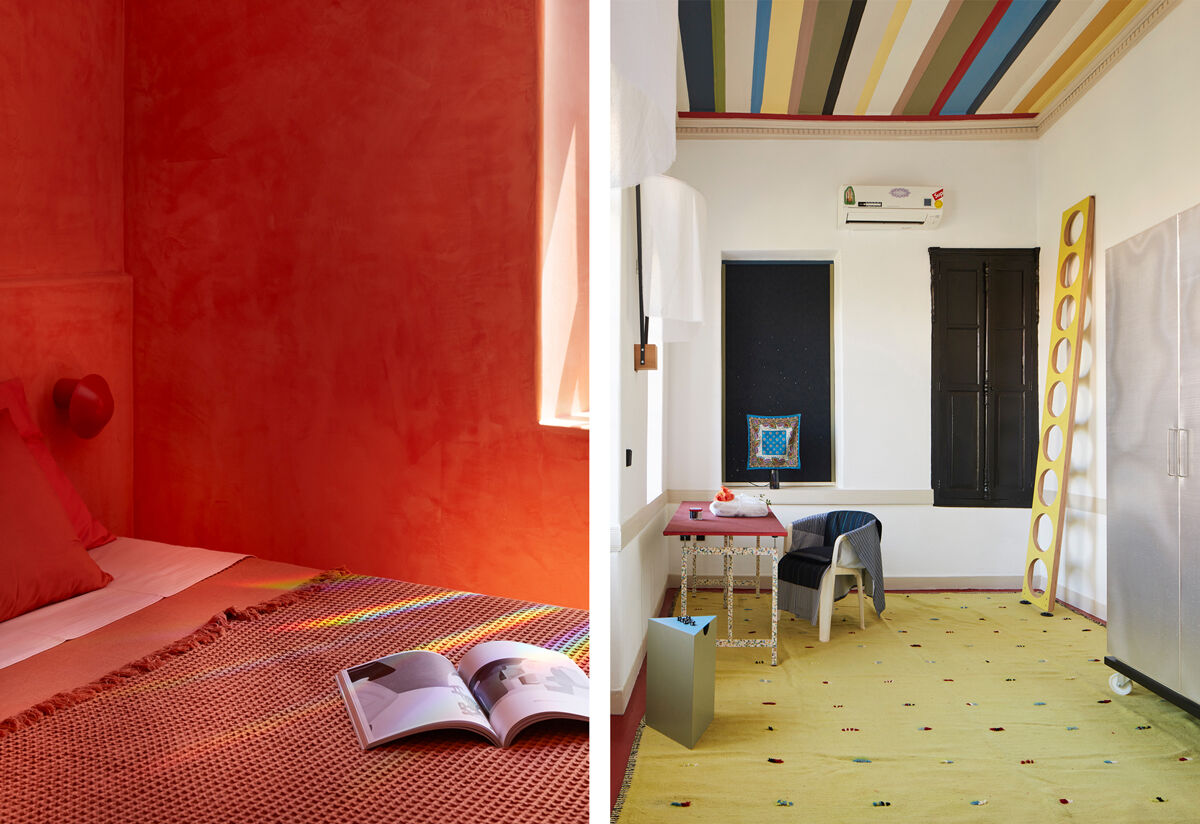 Kastellorizo, a small Greek island with a population of less than 500, is home to a number of innovative installations. Last year, Greek designer Savvas Laz was commissioned to revamp one of the island's neo-classical homes; enveloping the interior with his signature, pink recycled packing foam, the structure is aptly named "Pink House." A similar project, "4House," has recently opened, driven by an artist residency founded by Società delle Api's Silvia Fiorucci. Fiorucci and her team selected four up-and-coming designers, giving them each one room to reinvent in a house located in the town's port district. One of the designers, Studio Brynjar & Veronika, saturated their room in a vibrant orange hue (pictured above and far left). The walls and bed glow with color; as the sunlight shifts, the shade of orange changes from bright and cheery to deep and fiery. Julie Richoz incorporated cheery yellow into her room: the floor is lined with a dreamy yellow carpet, the ceiling is playful with rainbow-colored pinstripes, and a sunny yellow ladder even leans against a wall (pictured left). Fiorucci intends for the community "to use the…spaces as studios for producing new projects and reflections."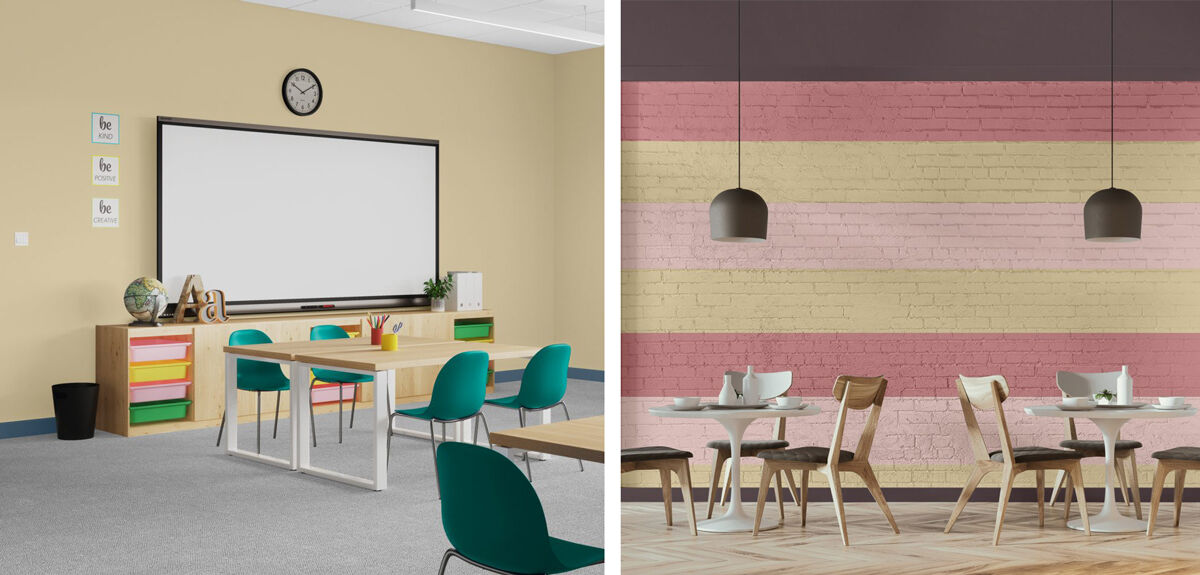 Paint brand Dulux just named their 2023 color of the year "Wild Wonder," a pale yellow shade that's gentle and undeniably easy on the eye. Dulux describes the shade as "a soft gold with hints of green." These green undertones give the color a sense of groundedness, a feeling that many of us have been searching for after the recent period of unpredictability and unrest. Another striking feature is the hue's naturalness; it conjures images of "fresh seed pods and harvest grain." Fresh and relaxing, Wild Wonder promotes well-being, connection, and positivity. All of these attributes make the shade incredibly versatile, allowing it to fit seamlessly into home interiors as well as commercial spaces like hospitals and schools.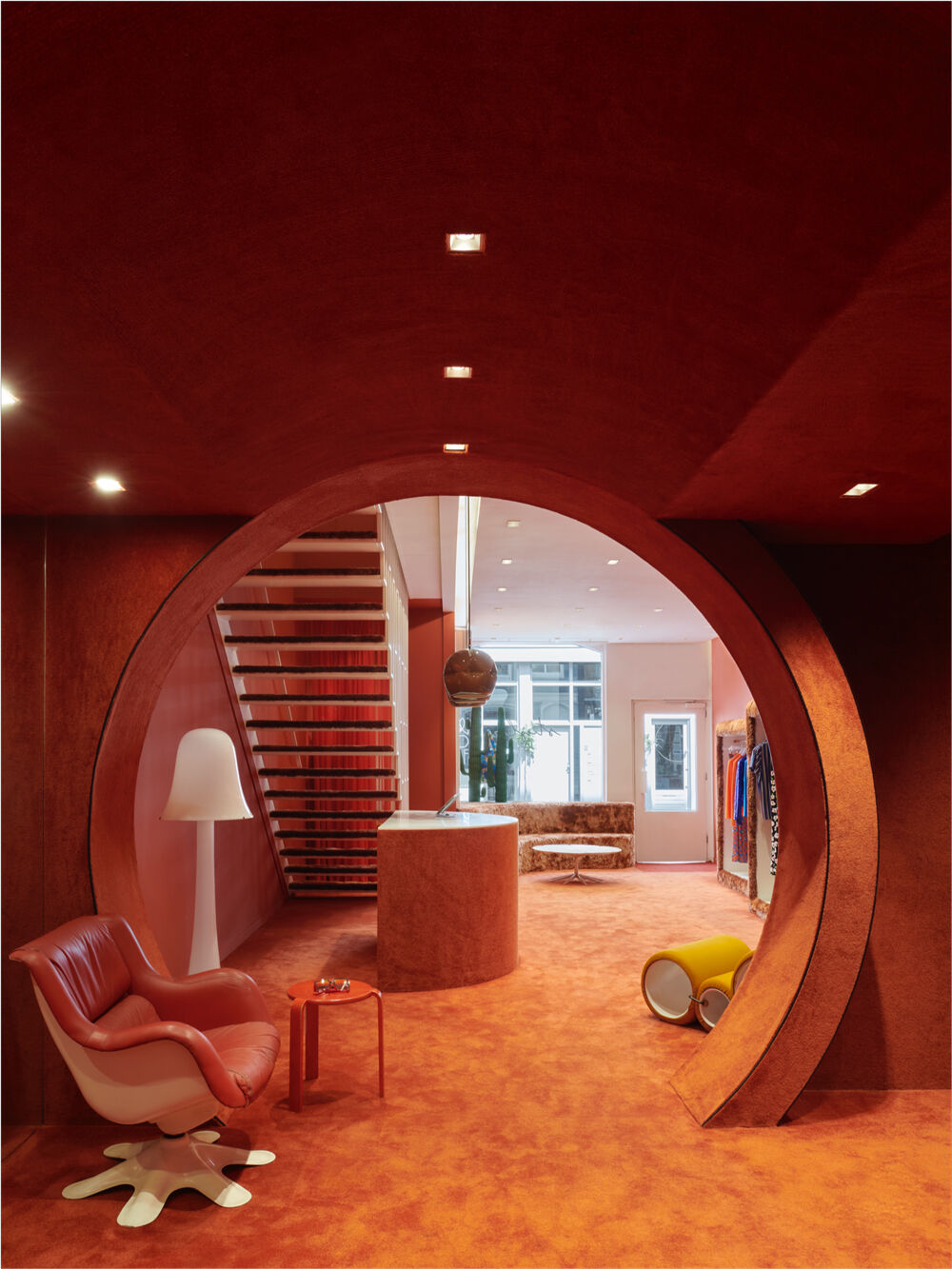 Dutch fashion designer Pien Stieglitz launched a new storefront in Amsterdam's Canal District, and the shop itself is just as bold as the clothes hanging inside. With the help of local architecture firm S-P-A-C-E Projects, Stieglitz has created a furry, rust-brown world: plush fabric lines almost every inch of the interior. The rich color climbs from the floors to the walls and clothing display cases, giving the space an indelible 1970's feel. Stieglitz's designs have a free-spirited style that matches the new store perfectly. In addition to bringing in shoppers, the storefront aims to be a venue for community meetings and events, fostering the sense of comradery this Amsterdam neighborhood enjoys. Celebrate autumn's wonder by perusing our offering of earthy shades.

From yellows to oranges to browns, these colors are sure to spark some inspiration:

Dreamy Yellows
291-3850 Ultraleather Sand
601-3120 Tottori Udon
744-35563 Montage Cord

Fiery Oranges
533-8202 Brisa Koi
630-8252 Volar Bio Monarch
740-82593 Lino Carrot

Rusty Browns
363-3145 Promessa Bronze
601-3300 Tottori Terrain
733-33343 Impasto Tiger Eye