October 03, 2022
Halloween, Haute Couture & Hospitals: Orange Knows No Bounds
As we usher October in, a noticeable shift in energy occurs. The heat of summer begins to dissipate and the coziness of fall sets in. With the new chill in the air comes an inevitable excitement: Halloween's playfulness always marks a festive start to autumn.
Next to Christmas, Halloween stands at a close second when it comes to public frivolity. Throughout October, spiderwebs, tombstones, and ghostly figures adorn our houses. Pumpkin patch picking abounds, the need for the perfect jack o'lantern specimen a high priority. These festivities all share the color combination of black and orange, and, in celebration, this Edge post explores the latter, spooky shade.
Bright orange generally signifies optimism and energy, so why has it become representative of a night of ghouls? The origins of the association date back to the start of Halloween itself, more than 2,000 years ago. Halloween finds its roots in the ancient Celtic festival of Samhain. The Celts, who lived in modern-day Ireland, northern France, and the UK, started each new year on November 1
. Marking the end of summer and the harvest, this day represented the beginning of winter, a period often affiliated with death. On the night before the new year, October 31
, it was believed that the boundary between the worlds of living and dead blurred. To recognize the event, the Celts built sacred bonfires for protection, warmth, and blessings from their deities. The orange of Halloween is believed to symbolize the huge fires of Samhain.
Photos by Francis Dzikowski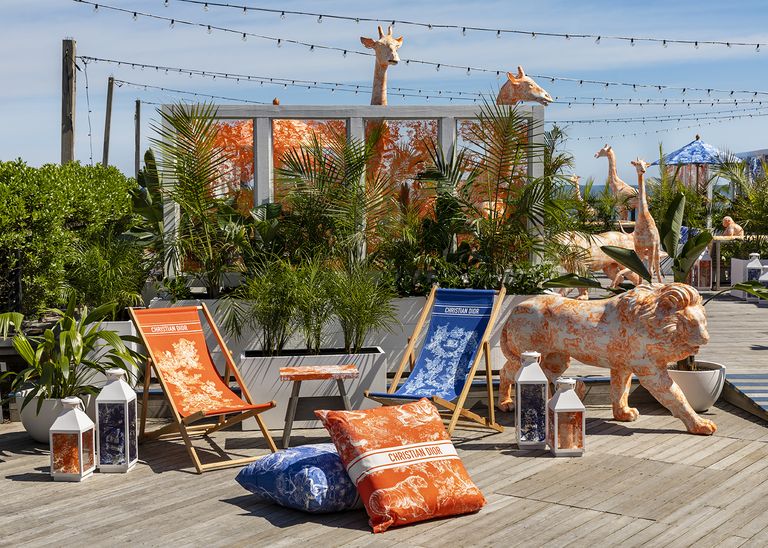 Albeit in a less-eerie context, orange has been the subject of many recent projects in the design world. This summer, Dior installed their first beauty and couture pop-up in America. Montauk's Gurney resort served as the host for the French riviera-themed experience. A Dior boutique was split into an orange room and a blue room, offering items from Maria Grazia Chiuri's Dioriviera capsule collection. Among the designs were bright orange and ivory tops, hand-bags, and swimsuits (pictured above). Outside, Dior conjured a French beach-escape overlooking the Montauk ocean: Dior umbrellas and lounge chairs lined the deck, with sculptures of wild animals (a motif of the French fashion house) prowling nearby.

Photo by Francis Dzikowski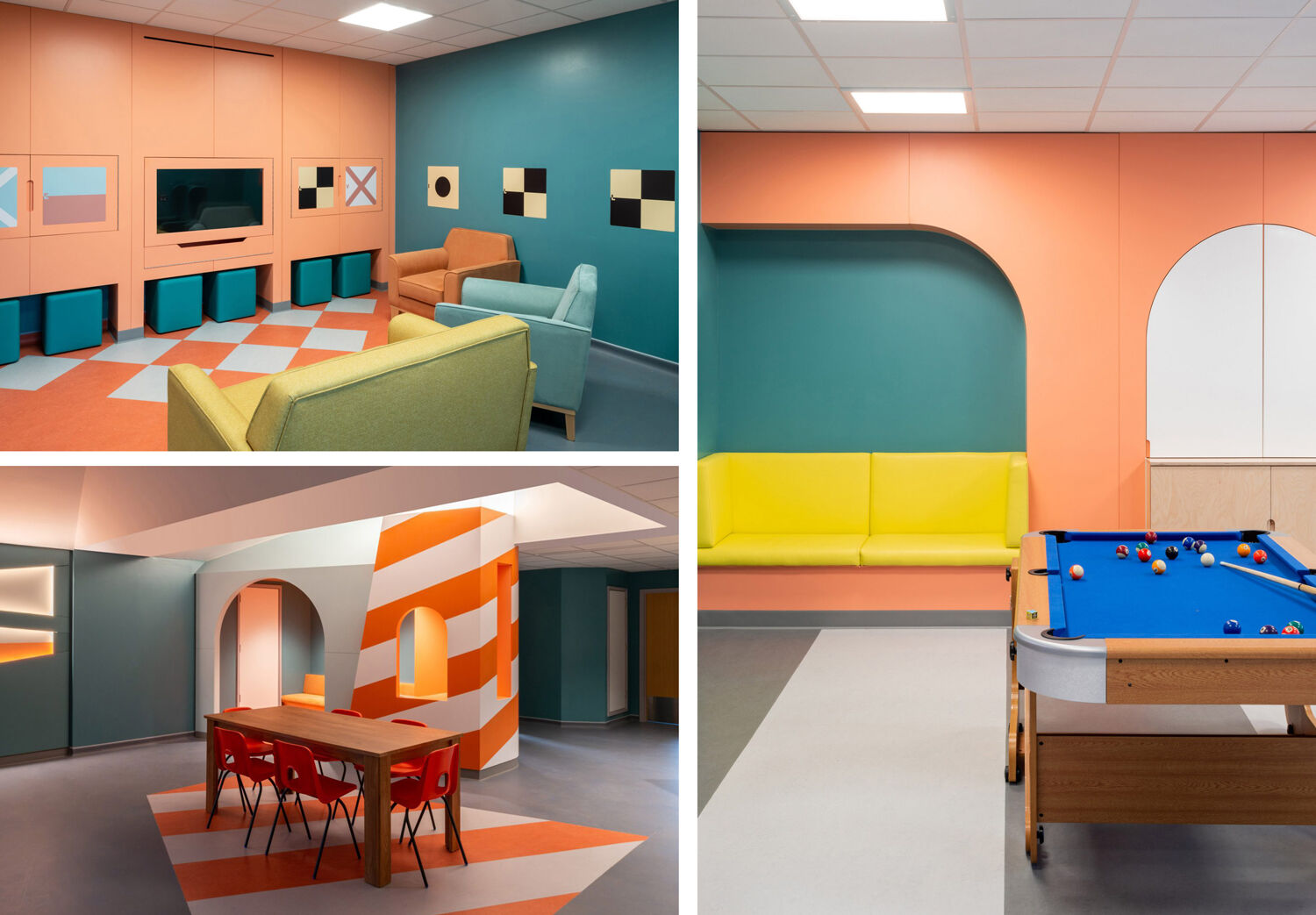 Last year, a very special design at the Royal Hospital for Children and Young People in Edinburgh came to life. London based-studio Projects Office, in collaboration with art consultancy Gingko Projects, unveiled the new interior of a children's' mental health wing. After a series of workshops with young patients, their families, and staff members, Projects Office opted for seaside-inspired colors and imagery.

"We took a playful approach to our designs for the artworks, whilst taking care to avoid the sometimes-patronizing wall graphics that can appear in children's hospitals," James Christian of Projects Office has said.

"This ranges from simple maritime pennants that spell out the name of the unit in a TV room all the way to a large lighthouse mural with a goal and targets, for ball games in the central garden."

Citrus and coral orange can be found on the floors, walls, and even on the stripes of the lighthouse.

Photos courtesy of French + Tye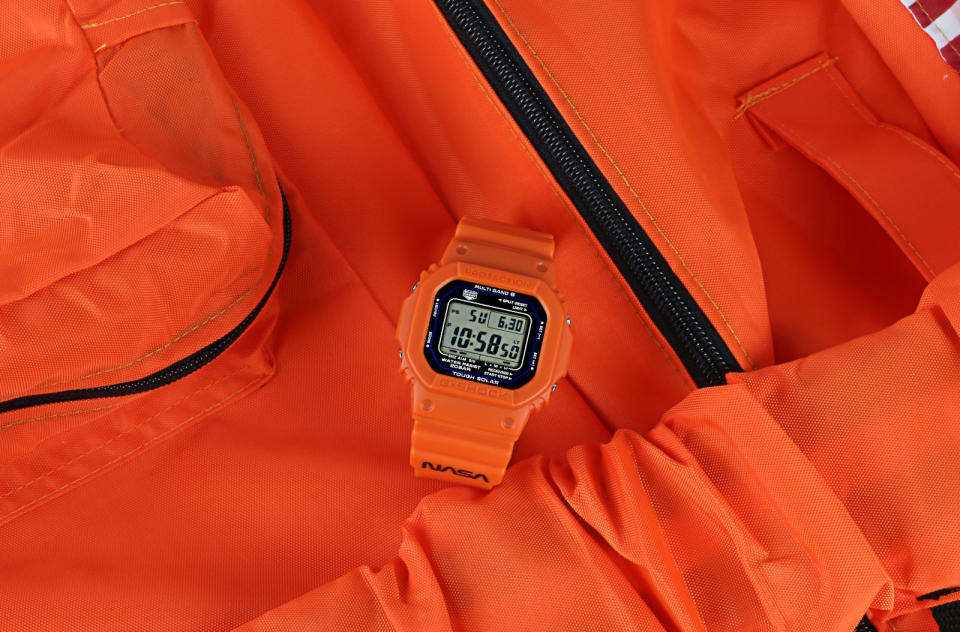 In July, Casio launched a bold G-Shock watch model in electric orange. The color is inspired by NASA spacesuits, the shade astronauts wear for the ascent and entry phases of their flights. The black dial, G-Shock has said, signifies the black visor of the astronauts' helmets, while the dial's blue line is a nod to the accenting on the suits. Casio has a longstanding relationship with NASA, G-Shock being one of few timepieces that the agency has approved for use on their space shuttles. The eye-catching watch is available only for a limited time and can be found on Casio's official website.

From warm gold to deep rust, Ultrafabrics' orange shades cover the spectrum. Get into the spooky spirit with these colors:
554-8251 Ultraleather Pro Melon

291-8243 Ultraleather Original Apricot

624-1415 Ultraleather Reef Pro Clownfish

533-8202 Brisa Original Koi

Photo courtesy of Casio