September 12, 2023
How Color & Architecture of Public Spaces Affect Our Wellbeing
If you've read our Edge Blog before, you already know about color's significance in design. Increasing research is being devoted to the emotional and physiological impacts that color has on human beings, an area called color psychology. An issue of related interest is the importance of our built surroundings—how the architecture of our public spaces affects our wellbeing. Styles and colors of buildings, provision of green spaces, and open layouts for social interaction are all the subjects of forthcoming psychological studies.
Steve Messam's inflatable sculpture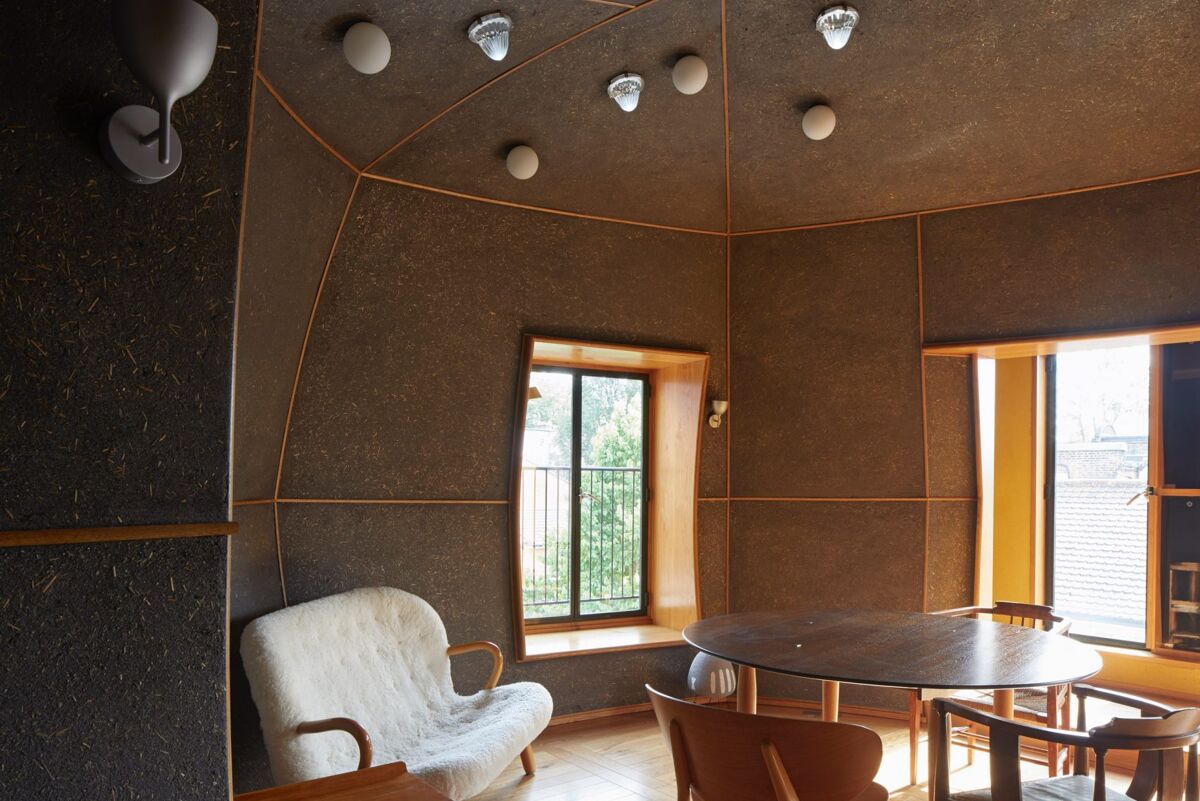 Colin Ellard, researcher at the University of Waterloo, has shown consistent evidence that we are strongly affected by buildings' facades: complex and uneexpected architecture sparks positive interest, while bare and unvarying designs can drag disposition downward. Using data from surveys and worn-wristbands, Ellard found that when a group of participants walked past the long, fogged-glass façade of a lower Manhattan Whole Foods, their physiological arousal and mood states plummeted. When the group then encountered a stretch of vibrant, colorful restaurants, they were much more upbeat and engaged.
Social connection is another key consideration in the planning of public spaces. Interpersonal interaction yields a number of well-documented benefits, with protection against cardiovascular, endocrine, and immune illness being just a few. To achieve this element, architects often implement open spaces into their designs, where a large number of people can easily gather together. Recent research has shown, however, that the quality of the open space, rather than the quantity, often lead to increased social interaction and participant welfare.
"We shape our buildings, and afterwards our buildings shape us," said Winston Churchill. Today, we highlight two recent art installations, each resonating profoundly with Churchill's sentiment.
Steve Messam's inflatable sculpture Gateway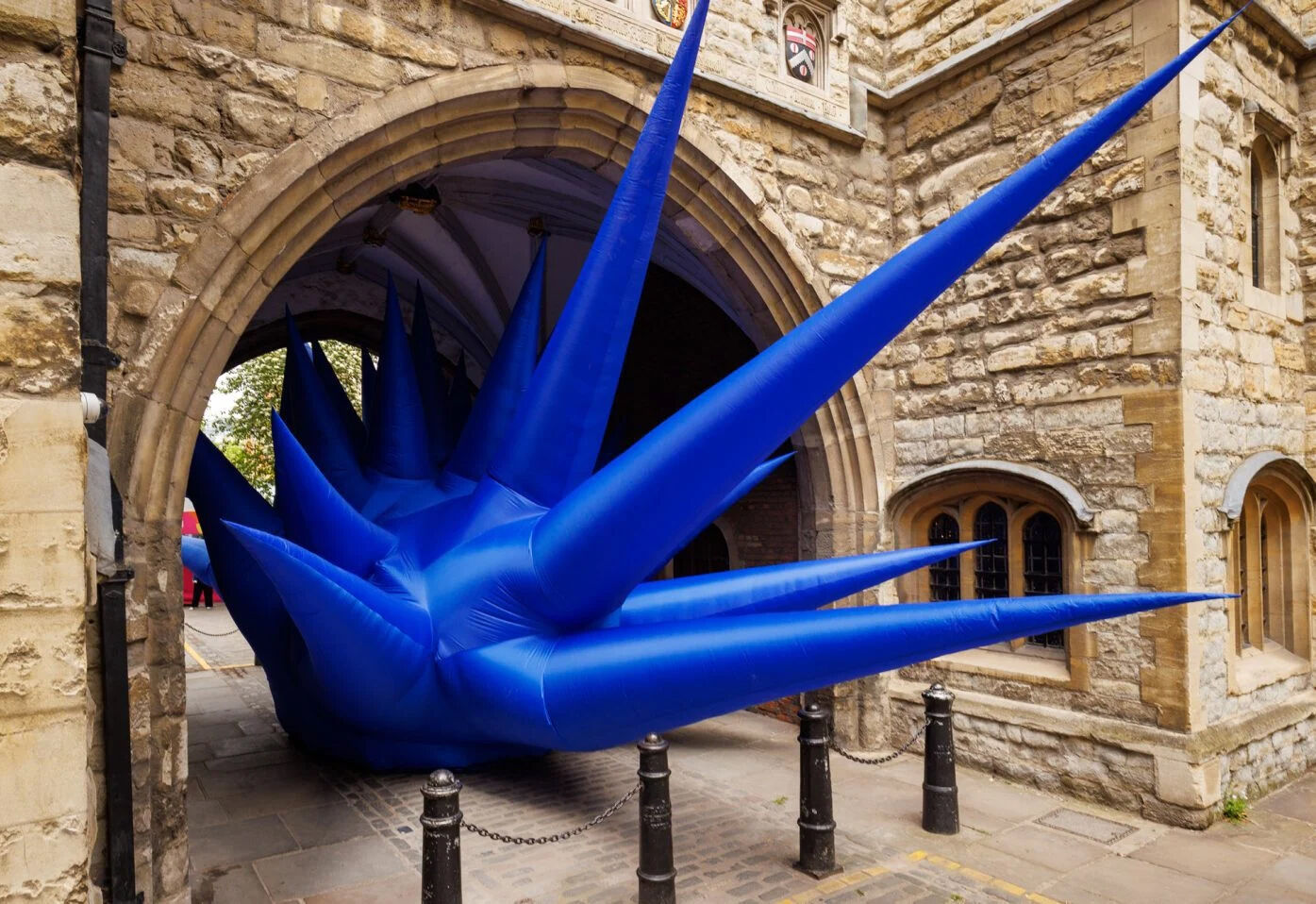 As part of Clerkenwell Design Week 2023, British artist Steve Messam created four massive, inflatable sculptures. With spiky and bulbous protrusions of saturated color, the pieces redefined several of London's most iconic landmarks. "'I transform or reimagine the architecture,'" explained Messam, "'we get to reevaluate it and look at the building with fresh eyes and how it sits in its wider environment.'"


One of the installations was a bright blue, six-meter-high inflation with 27 spikes, sitting directly under the archway of St. John's Gate; when accompanied by such a modern, delicate piece of artwork, the historical weight of the medieval structure became glaringly apparent. Another of Messam's sculptures, bright pink and cube-shaped, wrapped around an out-of-use telephone box. Messam designed the piece to challenge modern-day Londoners: "'when the phone box is such a key part of the landscape character, what do we do when they have no practical purpose?'" Though the installations were only on view for three days, Messam hoped that the bright, eye-catching sculptures would remain in public memory long afterwards. Transforming the landmarks' facades in such a compelling way might have led onlookers to reconsider their significance, both past and present.
Steve Messam's inflatable sculpture Gateway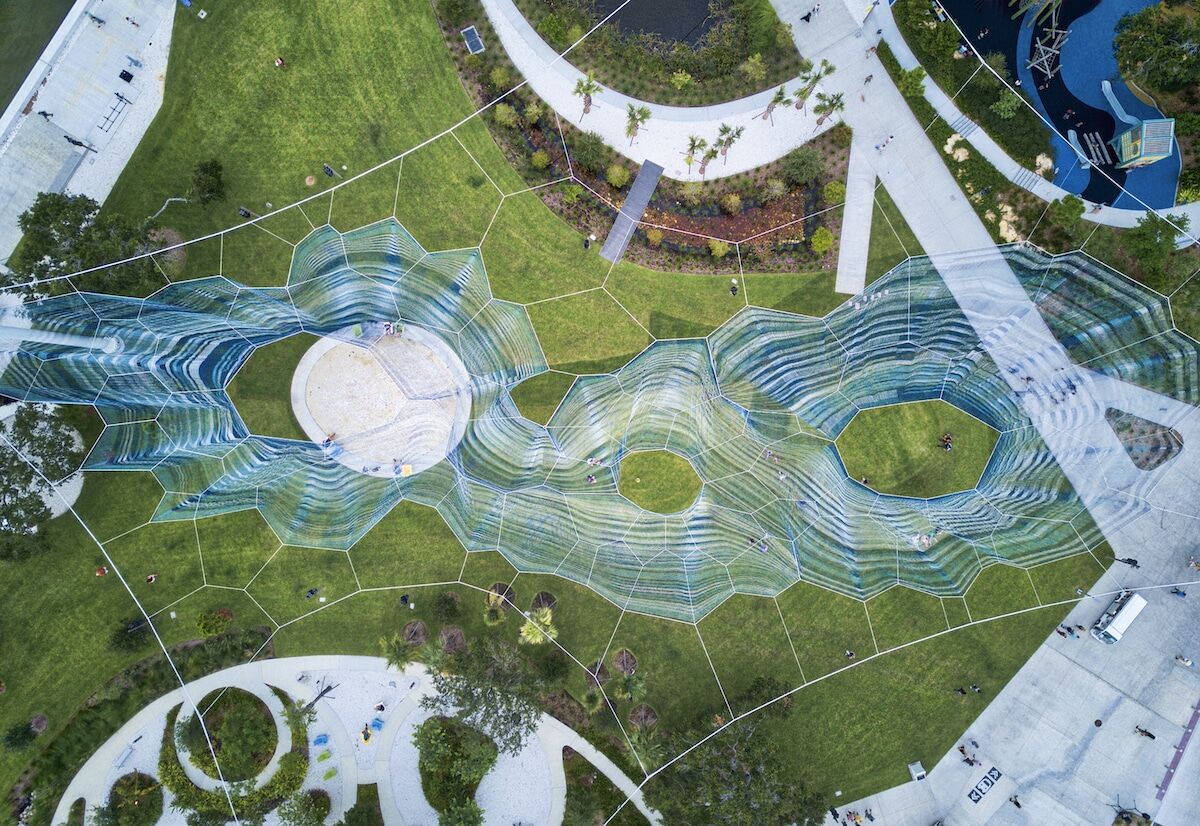 In St. Petersburg, Florida, Studio Echelman's "Bending Arc Sculpture" stretches joyously over the city's new, 26-acre waterfront pier. Winner of Dezeen magazine's 2022 Installation Design of the Year award, the aerial sculpture is now a fundamental part of the community's gatherings.


Made of 1,662,528 knots and 180 miles of twine, Bending Arc pays homage to the rich history of the communal space it billows over. When designing the sculpture, Janet Echelman discovered that her project's location was one of great significance to the Civil Rights Movement: it was here that citizens gathered to protest St. Petersburg's segregation of municipal pools, even after the Supreme Court had ruled that such policies were unconstitutional. Accordingly, Echelman named her installation after the famous words spoken by Martin Luther King Jr., "the arc of the moral universe is long, but it bends toward justice."
Janet Echelman's Bending Arc photo by Brian Adams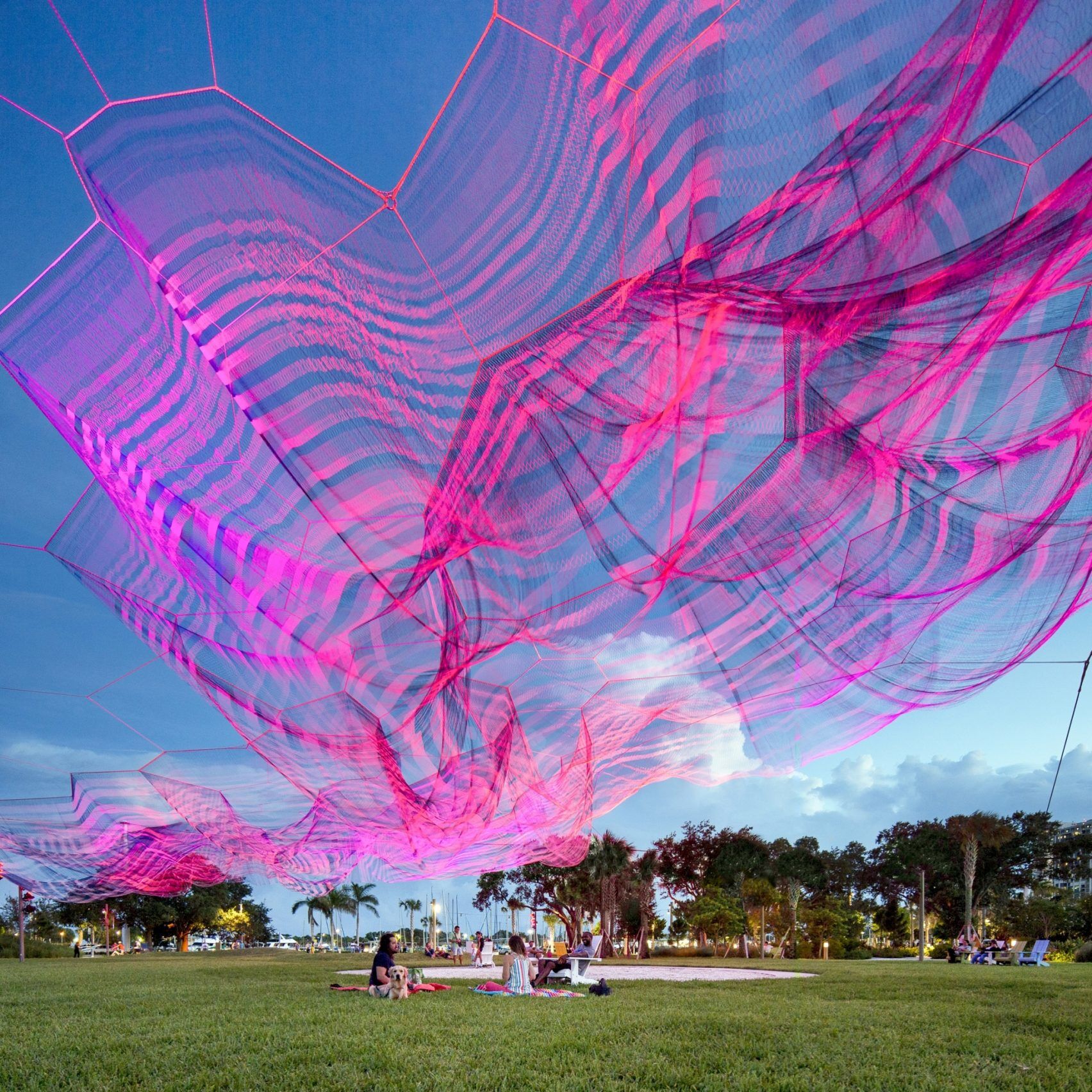 The installation serves as an emblem of hope, nodding to the courage of those who fought for justice year ago, while inviting current citizens to use the communal space as one of peace. During the daytime, the structure casts playful shadows over those who have come to spend time with friends and family. At night, the sculpture is lit up with a bold pink hue, and it becomes a fluorescent, unabashed blanket of optimism. Bending Arc fosters a sense of community among St. Petersburg's citizens, inviting those of all ages to witness the magic of its artistry.
Janet Echelman's Bending Arc photo by Amy Martz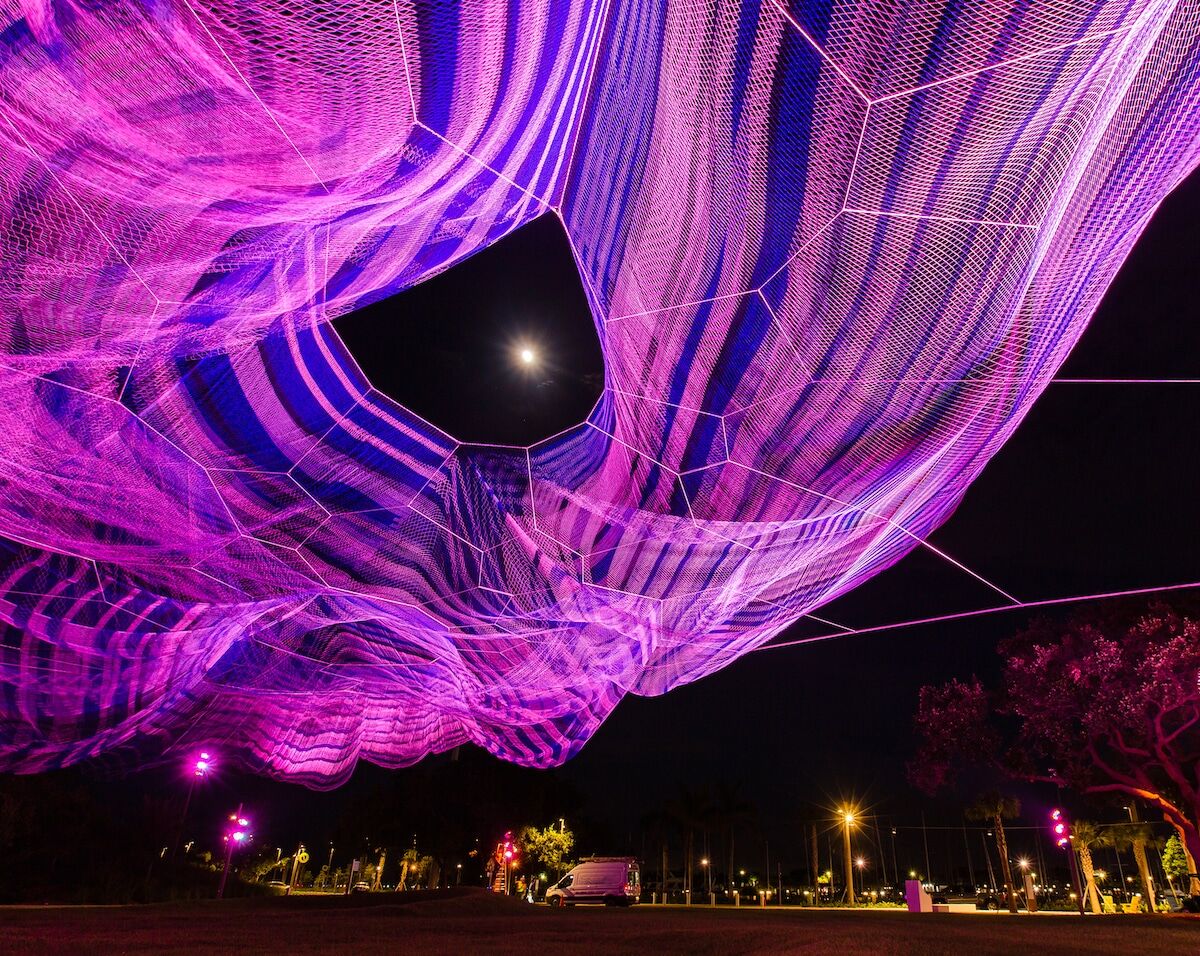 Whether in London, England or St. Petersburg, Florida, these installations enhance our experience of public spaces. Adding unusual pops of geometry and color to historic sites can alter our perception of them; implementing artwork in open spaces can foster the sense of social connection they bring to visitors.
We looked towards the latest additions from our Brisa collection to gather together these bold and thought provoking Brisa colors:
Harbor Mist
Rising Tide
Lambs Ear
Ice Pink
Clear Quartz
Janet Echelman's Bending Arc photo courtesy of City of St. Petersburg